Before we run deep into introspecting reasons for investing in customized mobile applications, let's understand what is fueling the App craze.
Contemporary consumers are curious, data-driven and informed. They demand the buying process to be secure and easy. Smartphones have made buying behavior spontaneous, and on the go—a convenience that is addressed by apps. Whether you are start-up, family-run brick and mortar store or an established brand with a global footprint, there is always a reason to invest in an app. If you can customize it in accordance with your outreach strategy or personalize it for targeted consumers, the ROI will definitely improve.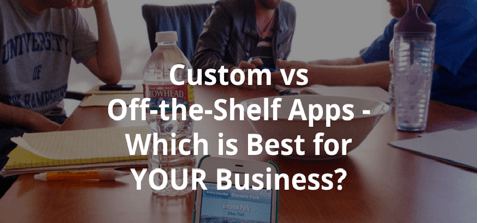 Here, we dissect reasons for investing in mobile applications and customizing them to leverage your IT investments:
Reason 1: Unified Digital Retail Platform
Mobile App Market grew rapidly in 2015 and in 2016, it is expected to be 1.4 mobile device per person globally—as we approach 10 billion mobile internet devices in use
The online market is rather scattered and increasingly expanding. There is nothing wrong in being a non-conformist. Mobile apps themselves represent the beauty of outthinking the conventional. However, what is engaging can easily transform into clutter. This is more likely to turn away mobile-friendly consumers who prefer a single point of engagement, which is where mobile application surfaces as a smarter solution. Mobile apps are invariably optimized for easy navigation. Every potential line of sale is categorized and optimized for better display, ensuring the user interface is undemanding. In this avatar, every app is essentially a unified platform. Potential buyers can browse, compare, create wish lists, browse ongoing promotions, read product descriptions, or enroll for e-mailers with effortless ease. basically, all online retail practices are bundled to perfection in an App.
Reason 2: Source of Invaluable Consumer Data
If you are ready to invest in a customized app, ensure the personalization is driven towards gathering more contextual data rather than just gathering data. Silos of information don't help. In the era of Big Data you need to put an expected ROI on your IT investments. Don't get confused by the general perception of capturing customer information through mobile apps. Customization should serve your businesses' unique challenge. For instance, if you are struggling to create sales in the unisex series of sports bags, you need an app that provides clear gender-based buying statistics. Every mobile app is not positioned for such data segregation—this is where your development team becomes critical. In fact, customizing the mobile app can be done for many reasons:
Tracking highest online traffic periods
Identifying product or service pages that engage customers for the longest period
Tracing buying behaviors—for instance, is your store generating sales only via weekend promotions
Discovering new demographics—your app should be able to highlight unexplored, emerging downloads and app activity to discover new consumer domains
Easy app rating system—gives you a reality check about your app's overall appeal
Segregating consumer data across parameters like spending limits, age groups, job roles, etc.
Reason 3: Customization Drives Interaction to Keep Customers Loyal
The hottest app category in 2015 was Personalization Apps that grew 332% year-on-year
Consumer engagement is increasingly becoming about business intelligence. You need to define the sensibilities of your customers, particularly repeat purchasers to ensure your app interacts with them. Here, customization can be driven by typical buying behaviors. For instance, if your customers have a tendency to share your brand of shoes spontaneously across social media channels, the app should be customized with easy to press and type icons. However, if a recent batch of merchandise has been suffering from poor quality standards, you might need to re-tune the app for a not-so-socially interactive format. Here, app customization takes precedence. We recommend customizing your app in accordance with the type of buyers it attracts. Decision-makers high in the corporate hierarchy might prefer apps that share weekly industry trend reports. Fashionistas might prefer apps that recommend a daily list of must-haves based on their browsing behavior. Do the math and then customize your app.
Reason 4: Customization for Scalability
Imagine a scenario where your business has been largely regional with sales fueled by local buyers. Now, you are positioned to expand operations across the state and the nation. This means data scalability that includes your IT infrastructure and mobile apps. IT ecosystems can be quickly scaled if you are on the cloud but it is not the same story with mobile apps. You need to be empowered with scalability—ensuring your app can handle increasing browsing traffic. Scalability is the buzzword for IT firms in 2016. As digital equations continue to evolve, so will you. The best way is to have an easy to develop, experiment, and implement a customizable app.
We will be back with another discussion on how CUSTOMIZED APPS make sense for SMEs and bigger enterprises. We will also talk about customizing apps for the workplace and not just consumers. Until then, please share your feedback…